Corporations, Limited Liability Companies and Partnerships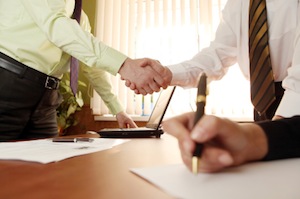 Formation of Corporate Entities
Anthony Privette is a leading North Carolina corporate lawyer dedicated to forming corporate entities and helping businesses grow. From new family enterprises to thriving industry leaders, numerous corporations throughout North Carolina have prospered thanks to Mr. Privette's legal knowledge.
The formation of a corporate entity facilitates the ownership, management, and transfer of businesses, making it easier for owners to operate their companies. The corporation is a legal fiction allowing businesses to function as legal "persons" who own assets and incur liabilities. Because a corporation is separate and distinct from the business owner, it shields and protects owners from personal liability. Incorporation is thus prudent when a business begins to sell a product, seeks external financing, or needs a formal legal structure to hold and transfer assets or deal with liability. Corporate entities are formed at the state level throughout the United States.
Some examples of business entities include:
Corporations
Limited Liability Companies
Limited Partnerships
Statutory Trusts
General Partnerships
Nonprofit Associations
The first step in forming a corporation is deciding which business entity is right for you. This is determined, in large part, on the corporation's level of taxable income. Most corporations want to reduce their tax burden by finding the appropriate structure for assets and liabilities. "C" Corporations, for example, are corporations organized under subchapter C of the IRS code. C-corps may get around "double taxation" by paying out year-end bonuses rather than dividends that are taxed twice. "S" Corporations are structured so that income, gains, losses, and deductions are "passed through" in proportion to one's share of ownership in the corporation. An experienced North Carolina business attorney can help you determine which business entity will best fit your needs and guide you in forming a corporate entity.
Once incorporators choose the most suitable business entity and pick a name for the company, they must select a state of incorporation. The corporation's principle state of business may be a prudent choice. In North Carolina, the General Statutes require that the articles of incorporation list the name of the corporation, the number of shares it is authorized to issue, the address of the principle office or registered agent responsible for accepting business documents on the corporation's behalf, and the name and address of each incorporator. Pursuant to §55-2-3, corporate existence "begins" when the articles of incorporation, filed with the Secretary of State, become "effective." The articles may contain a provision limiting or eliminating the personal liability of any director arising out of a breach of duty or action by the corporation. Shareholders are likewise shielded from liability for debts incurred by the corporation.
If you need legal assistance forming a corporate entity, Anthony Privette can help. Although the corporation shields owners and shareholders from liability, individuals can still be held liable if the incorporation process was defective, there is an egregious conflict of interest, or in cases where it is disputed whether the person signed a contract in his or her personal capacity or on behalf of the corporation. There may also be disputes with regard to indemnification clauses purporting to reduce potential liability.
Anthony Privette is experienced in all issues relating to the formation of corporate entities, from the first stages of incorporation to the mergers and acquisitions of other firms. He has successfully handled numerous cases involving corporate law, helping business throughout North Carolina resolve their disputes and prosper. Call Mr. Privette at (704) 872-8125 for a consultation.
Map
Get in Touch
1

Free Consultation

2

Over 24 Years of Experience

3

Zealous Representation
Fill out the contact form or call us at
704.872.8125
to schedule your consultation.