Personal Injury/Motorcycle Accidents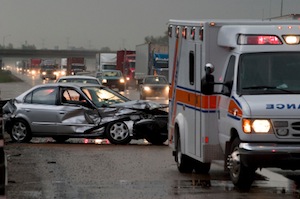 Anthony Privette is a leading North Carolina personal injury attorney dedicated to defending the rights of those injured in Statesville and other areas of North Carolina. He represents injured people in both state and federal court and is a tireless advocate for his clients.
A personal injury claim provides legal recourse for victims who experience bodily harm caused by another's negligence. General principles of negligence state that we owe a duty of care to others. Any person, corporation, or combination of parties can be negligent if they breach that duty of care. Negligent parties are legally liable for any injuries proximately caused by their negligence.
Drivers, for example, breach their duty to other motorists when they drive recklessly, or while otherwise impaired. In the event of an accident, at-fault drivers are liable for any injuries caused by their negligence. The same holds true for victims injured by a dangerous condition on property, unsafe working conditions, defective products, or a botched procedure. In all these cases, a land owner, employer, manufacturer, or physician breached a duty of care to the injured party and is liable for any resulting harm. Personal injury can happen from any of the following situations:
Single or multiple-vehicle accidents
Rollovers and DUI-related collisions
Pedestrian and crosswalk accidents
Dangerous conditions on property
Failure to warn of known danger
Criminal or negligent conduct
Injuries in the workplace
Slip-and-fall accidents
Sports-related injuries
Medical malpractice
Defective products
North Carolina law protects victims who were injured by another party's negligence. Like other states, North Carolina requires drivers to carry auto insurance to protect against liability for bodily injury and property damage in case of an accident. Laws regarding tort liability are set forth in North Carolina's General Statues. The General Statutes provide for recovery against negligent manufacturers, property owners, and physicians in personal injury suits, but require the injured party to file a claim within three years.
For cases in which the negligent party was not a person, the North Carolina Tort Claims Act holds governmental entities liable for tortious conduct under state law. State workers' compensation laws also require businesses and employers to cover injuries sustained at work. An experienced North Carolina personal injury attorney can help explain which laws apply to your case, and aggressively pursue your legal claim.
Injury victims are entitled to several forms of compensation. First, they are entitled to past and future medical expenses, including emergency care at the scene of the accident and any future treatment necessitated by the injury. Second, they can recover for lost income, future earnings, and other disability benefits incurred as a result of their inability to work. In some cases, victims are also entitled to damages for pain, suffering, and emotional distress. If the injury was caused by a defective product, victims may have a separate claim against the manufacturer, entitling them to punitive damages, court costs, and attorney fees.
Map
Get in Touch
1

Free Consultation

2

Over 24 Years of Experience

3

Zealous Representation
Fill out the contact form or call us at
704.872.8125
to schedule your consultation.