Workers' Compensation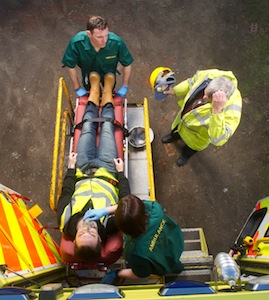 Anthony Privette is a highly regarded North Carolina workers' compensation attorney dedicated to providing the highest quality legal representation to workers injured on the job in Statesville and other areas of North Carolina. He has successfully handled work-related claims before the Industrial Commission, North Carolina Court of Appeals, as well as the Supreme Court of North Carolina. Mr. Privette can help you identify all sources of liability and maximize recovery for your claim.
Workplace injuries are all too common in North Carolina and other states. The Centers for Disease Control and Prevention estimate that 15 workers die each day from traumatic injuries. Many more injuries go unreported because workers are afraid to lose their jobs, even when they are under pressure to do more with less. This overexertion increases workers' exposure to harm and potential for injury. In fact, the latest workplace statistics reveal that acts of overexertion, or injuries caused by lifting, carrying, pushing and pulling, are responsible for over 72 percent of workers' compensation costs. That means businesses pay over $12.5 billion in direct annual expenses for these injuries alone. Other leading causes of workplace injuries include:
Being struck by an object
Tripping or slip-and fall accidents
Falls from the same floor or lower levels
Highway, construction, or factory accidents
Being trapped or compressed by machinery
Dangerous conditions in the workplace
Assaults by co-workers or outside parties
Repetitive motion or tasks exacerbating an injury
Injuries from bending, climbing, reaching, or standing
The North Carolina Industrial Commission administers the Workers' Compensation Act. This establishes an accident insurance program, paid for by employers, that provides medical, rehabilitation, and income benefits to workers injured on the job. According to this law, employers must pay compensation for personal injury or death where the accident "arises out of" or occurs "in the course of" employment. Further, the right to compensation and other benefits for disability, disfigurement, or death is not affected by the liability of third parties; employers and their insurance carriers may proceed against the third party to enforce liability. Finally, North Carolina workers' compensation laws require prompt payment of compensation to the injured party. These payments must continue until the terms of the award are fully satisfied.
Workers' compensation claimants are entitled to several forms of damages under state law. First, they are entitled to medical expenses, including hospital bills, emergency care, and continuing treatment of the injury. Second, they can recover lost income and other disability benefits, amounting to a sizeable portion of their average weekly wage. Most benefits depend upon the nature and extent of the injury and whether they result in a partial or total loss of function in different parts of the body. Workers who suffer catastrophic injuries may thus be entitled to lifetime benefits. In cases of death from a work-related injury, dependents may recover the decedent's lost income and other damages associated with the loss.
If you were injured on the job, call an experienced North Carolina workers' compensation lawyer immediately. North Carolina law gives injured workers 30 days to provide written notice to their employers. Any delay in filing a claim may limit the value of your recovery or completely bar your right to relief. Anthony Privette has successfully handled numerous workers' compensation claims, recovering millions of dollars for injured workers throughout North Carolina. He can help you present your claim in the most favorable light and aggressively pursue your case before the Industrial Commission. In fact, if you already filed a claim but still have not received any benefits, Mr. Privette can assist you in obtaining the maximum recovery possible through trial or settlement. Call Mr. Privette at (704) 872-8125 for a confidential consultation.
Map
Get in Touch
1

Free Consultation

2

Over 24 Years of Experience

3

Zealous Representation
Fill out the contact form or call us at
704.872.8125
to schedule your consultation.